What a great weekend! We trust all went well with your trip home.
Good to see runners out walking around the village and tracks on Sunday.
We are thrilled with the success of the event and thank you for the many emails and messages of support we have received over the last few days.
It's also good to hear that some of you are already booking accommodation for next year.
Congratulations to our champions Patrick Higgins and Sue Crowley. Stunning performances from them and it was great to see such close racing in the Men's field.
To you all, well done on completing the Rakiura Challenge! We had no issues with injuries or emergency evacuations, with only one runner not making the cut-off time at North Arm Hut. Thank you to that runner for your understanding when we made the decision to take you out on the water taxi. We hope you are able to have another go at the race next year.
The media coverage has been amazing. To have the TV One team on the Island for two nights with their live crosses to Breakfast and TV One News, finishing with the incredible item on TV One News on Saturday night, was fantastic. We also had great coverage in the Otago Daily Times and the Southland Times newspapers, along with extensive coverage on Stuff. This speaks volumes for this event as being special and unique.
Download our media release (PDF)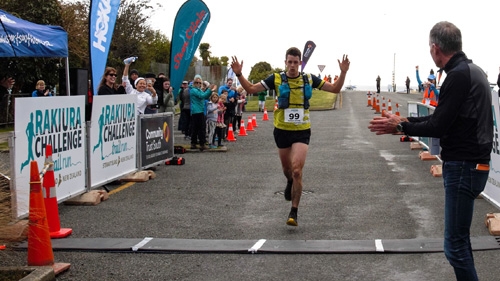 Download full set of results (PDF)
We also have photos available from local photographers Sandra Whipp and Karla Kennard. Thank you to these two ladies for making these available to us. Sandra's photos are available on Facebook and please contact her at sandramaewhipp@xtra.co.nz if you require copies.
The 2020 Rakiura Challenge Trail Run will be held on Saturday, 3 October, so mark your calendar.
We will send you a newsletter before Christmas announcing the launch date for 2020 entries.
The future: We plan on speaking to Department of Conservation during our Debrief about hopefully increasing our entry numbers for next year.
Good luck with your training and hope to see you back on Stewart Island visiting and perhaps training before next year's event.
Chris Cox, Race Director, for and on behalf of:
Aaron Joy, Event Chairman
Morgan Shepherd, Event Manager
Adele Larsen, Marshal Coordinator